New Distraction for MC Chase Amusements (Home Arcade)
11-08-2019, 09:11 AM
We bought our first Arcade1Up. Well, preordered, then waited agonizingly for release, then dicked around with UPS not being really set up to handle weather setbacks.
"So, Lynn, why buy an Arcade1Up when you already have
Legacy of the Stick
?"
This is why: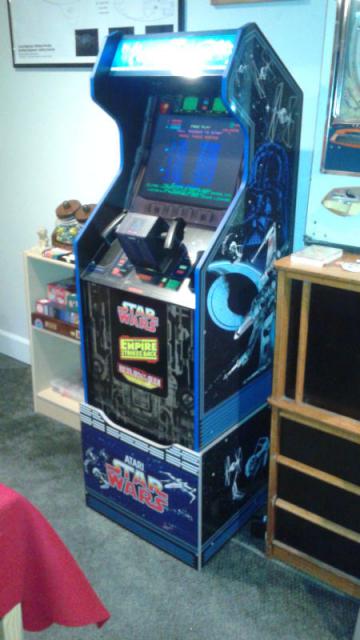 There wasn't any way we were going to set up Legacy of the Stick to DO the games in this machine. Even worse, I doubt I could have BUILT something like this machine for anything less than $1K, and this came in at $530
after
shipping. And let's not speak of the wallet shock that is trying to get a real Star Wars (and that's only one game at that).
I'm already working on achieving high scores. Jedi is the hardest game on here, I haven't cleared more than one stage on that one thus far. I think I've managed to more than double my lifetime play time on Empire at this point. And Star Wars is still a finely focused classic of arcade goodness.
For the record, the yoke is mostly plastic, but I don't anticipate any issues.
Unless they do something else this crazy, though, it'll probably be our only Arcade1Up. We don't really need anything that's pure stick (that's what Legacy of the Stick was built for), or four player (see previous), and I added a Taito spinner to that cab on top of it, so we don't need the Asteroids cab. Plus, well, we have some plans to build something trackball related. I think they'd have to put out an Outrun cabinet for us to buy a second.
"You know how parents tell you everything's going to fine, but you know they're lying to make you feel better? Everything's going to be fine." - The Doctor